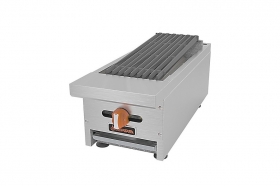 Sierra 12" Countertop Gas Radiant Broiler
• Double sided cast iron grates. One side for meats, the other for delicate fish.
• Cast iron radiant for optimum heat distribution that are individually removable for easy cleaning.
• Enamelled burners placed every 12", providing uniformity when operating.
• Accessible pilots through front panel.
• Orange paint injected aluminum knobs providing for better toughness
and durability.